Note 1: If you are a MemberLink customer, we will automatically add MemberLink and any of the CAA products used by your church.
Note 2: Please select a Logo photo and a couple of other photos for us to use at the top welcome area of your APP. You can email those to us.
Note 3: Once we have the basic App developed we will work with you to modify and personalize the App with your church's up to date information and preferences.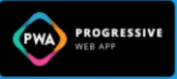 OUR APPS ARE PWA's
What is a PWA? A Progressive Web Application (PWA) takes advantage of the latest technologies to combine the best of web and mobile apps. Think of it as a website built using web technologies but that acts and feels like an app, a Mobile App. Recent advancements in the browser and in the availability of service workers and in the Cache and Push APIs have enabled web developers to allow users to install web apps to their mobile device's home screen, receive push notifications and even work offline. The PWA uses the newest and most advanced technology of the day which is now revolutionizing the Mobile App world.